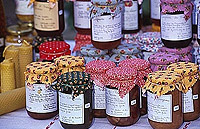 Find sellers of organic Commodities
The Greentrade Directory
Click on the offer number to view the company's information.
To obtain the company's e-mail addresses you need to subscribe our services or please contact us at Tel.: +33 1 47 50 02 73
Fax : 33 1 47 50 28 67
Offer N°
Category
Certification
Product
76957
Commodities
O.i.a.
Sugar

Description

: Dears,

We are pleased to contact you.
We are an International Trade Services Company in Buenos Aires, Argentina.
This time, we want to offer Organic Sugar, from a group of farmers .The sugar meets the requirements and certifications of international markets, and it is ready to be exported.

Product: Organic Sugar
Packing: 25 kg bags
Quantity: 600 ton Now. On July/August 1000 tn plus.
Fob Buenos Aires: USD 1200 x ton
Payment: Negotiable

We can send by email the product specifications. Please, ask us about any question.
76616
Commodities
Other
Coffee & substitutes

Description

: Nous sommes une petite entreprise recherche partenaire pour nos produits café ARABICA du Laos.
76517
Commodities
Other
Cocoa, chocolate

Description

: We are certified under India's National Programme for Organic Production Standards - considered equivalent to Council Regulation (EC) No.834/2007 and Swiss Organic Farming Ordinance for plant products originating in India.
76481
Commodities
Other
Coffee & substitutes

Description

: Producción - desarrollo de cafés especiales con denominación de origen Huila - Colombia.
Industrialización de tres lineas de cafés con notas cítricas -acarameladas y achocolatadas.
Conformamos asociaciones de caficultores certificados con Raint Foresta- C4 y denominación de origen.
productos:
1. Café verde almendra
2.Café grano tostado para la industria Horeca
3. Café tostado molido para el comercio Retail
64983
Commodities
Other
Cocoa, chocolate

Description

: Poudre de cacao
Masse de cacao
Beurre de cacao
64984
Commodities
Other
Sugar

Description

: Sucre de canne
76452
Commodities
Other
Sugar

Description

: Coconut sugar is subtly sweet almost like brown sugar but with a slight hint of caramel. However, since organic coconut sugar is not highly processed, the color, sweetness and flavor can vary depending on different factors. Coconut sugar's color, sweetness and flavor can vary slightly from packaging to packaging depending on the coconut species used, season when it was harvested, where it was harvested and even the way the "sap" or "toddy" was reduced.

Coconut sugar consists primarily of sucrose(containing glucose and fructose). "The major component of coconut sugar is sucrose (70–79%) followed by glucose and fructose (3–9%) each. Minor variations will occur, due to differences in primary processing, raw material source, tree age and variety of coconut."


Health benefits of Coconut Sugar

The Glycemic Index of coconut sugar was reported by the Philipppine Coconut Authority to be 35 and by that measure it is classified as a low glycemic index food. However, in that study the glucose standard was fed as an aqueous solution, while the sugar was fed as sugar. Making the test food slower and more difficult to absorb and digest relative to the test solution will lower its GI value. It is considered to be healthier than refined white sugar(60) and brown sugar(64). It can be used as a 1:1 sugar substitute for coffee, tea, baking, and cooking.

Coconut sugar has a high mineral content, being a rich source of potassium, magnesium, zinc, and iron. In addition to this it contains Vitamin B1, B2, B3, and B6. When compared to brown sugar, coconut sugar has 18 times the potassium, 30 times the phosphorus and over 10 times the amount of zinc. The large amounts of K and P can explained by the way coconut sugar is tapped from the inflorescences of the tree.

The coconut sap, from which coconut sugar is derived, contains 16 amino acids. The amino acid which has the highest content in coconut sap is Glutamine.
70758
Commodities
Imo
Cocoa, chocolate

Description

: Dry well fermented cocoa beans.
76115
Commodities
Ecocert Belgium Sprl / Bvba
Tea

Description

: Farm direct, 100% certified oolong tea(tieguanyin),organic black tea from mountainous
tea farm elevated about 500-750 meters far away from
farm land.

We have oganic certification from Ecocert, USDA, JAS,Halal, Zhongnong.
75950
Commodities
Other
Coffee & substitutes

Description

: Organic arabica coffee beans cultivated in yercard and palani hills.
75760
Commodities
Control Union
Tea

Description

: Different sort of organic teas, direct from the origin
75759
Commodities
Control Union
Sugar

Description

: Certified organic cane sugar (fairtrade organic also available)
75199
Commodities
Other
Tea

Description

: 1.gree tea powder
75198
Commodities
Other
Sugar

Description

: 1. icumsa 45 brazil origin
2. indian sugar refined
75002
Commodities
Ecocert
Tea

Description

: Add an element of zen to your day with a soothing cup of our Organic Green Tea. This flavorful tea combines the best organic green tea leaves packed with flavonoids and other antioxidants, and our renowned organic Ganoderma lucidum mushroom, for a truly invigorating cup of tea.