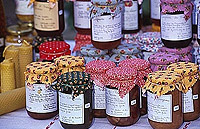 Find sellers of organic Commodities
The Greentrade Directory
Click on the offer number to view the company's information.
To obtain the company's e-mail addresses you need to subscribe our services or please contact us at Tel.: +33 1 47 50 02 73
Fax : 33 1 47 50 28 67
Offer N°
Category
Certification
Product
65045
Commodities
Other
Cocoa, chocolate

Description

: gamme de cacaos aromatisés :

- 100 % pur cacao
- cacao aromatisé orange
- cacao aromatisé caramel
- cacao épices orientales
- cacao gingembre
- cacao cannelle
- cacao cardamome muscade
64893
Commodities
Other
Tea

Description

: tea with label THE DES VIGNES biologique

Excellent teas with the alliance of 2 cultures (wines and tea)

six 100gr or 1kg products : ST Emillion, Pauillac, Bordeaux, Pessac-Leognan, Margaux, Pomerol

tel : 06.75.24.99.05
64837
Commodities
Other
Cocoa, chocolate

Description

: This is a special grade cocoa oleoresin made from cocoa bean husk and can be substituted for chocolate flavor in the baking industry.
64131
Commodities
Other
Sugar

Description

: Organic raw Cane Sugar
64218
Commodities
Bcs-oko Garantie Gmbh
Cocoa, chocolate

Description

: Chocolate
64019
Commodities
Other
Cocoa, chocolate

Description

: organic cocoa
63789
Commodities
Ecocert
Sugar

Description

: All kind of cane sugars.
63748
Commodities
Ecocert Belgium Sprl / Bvba
Sugar

Description

: What is Suchero?
SUCHERO is a low glycemic all-natural coconut sweetener produced from carefully extracted organic coconut sap.

Current trends of choosing a healthier lifestyle and quality diet is on the rise as our lives today are filled with products leaning on the "instant", "sweetened" and "artificial." So it is refreshing to find a sweetener that is all natural (no aspartame and no sucralose) and fits the requirement for a healthy and nutritious diet.

SUCHERO is a nutrient-rich, low-glycemic crystalline sweetener that looks, tastes, dissolves and melts almost exactly like sugar, but it is completely natural and unrefined. SUCHERO has no additives, no preservatives, no chemicals, and it is unbleached and unfiltered.

SUCHERO is the natural sweetener recommended and trusted by leading hospitals and prominent doctors. This means, SUCHERO is an ideal sweetener substitute for the preparation of low GI diets and can be safely used by diabetic patients or patients with high sugar level. When incorporated in low GI diets, SUCHERO can help in the proper management of diabetes, weight control, prevention of heart disease and obesity.


SUCHERO can be used 1:1 as a substitute for cane sugar. It also rapidly dissolves in liquids without residue. Tests show that SUCHERO is naturally rich in vitamins, minerals, and amino acids. Aside from being a low GI food, SUCHERO also has macronutrients such as potassium and magnesium and micro-nutrients such as zinc and manganese.


How is it processed and made into sugar?
SUCHERO is derived from the nutritious sap of organic coconut trees. The oyster white liquid is collected and cooked on low heat to let the liquid evaporate until SUCHERO granules are formed - 100% natural, no additives, no artificial flavoring, no coloring, no preservatives and no chemicals – unbleached and unrefined.



The glycemic index or GI is a measure of the effects of carbohydrates on blood sugar levels. Carbohydrates that break down easily during digestion and release glucose rapidly into the bloodstream have a high GI; carbohydrates that break down more slowly and release glucose more gradually into the bloodstream, have a low GI. High GI products tax the pancreas as these signal the brain to produce large amounts of insulin. Prolonged use of high GI products can lead to diabetes.

What is the difference between ordinary sugar and Suchero?
Tests have shown that white sugar has a glycemic index of about 65. Suchero on the other hand has a GI of only 35. SUCHERO is being recommended by doctors as a natural sweetener that can be used as a substitute to white sugar for diabetic patients or patients with high sugar level. SUCHERO is the choice for those who just want a healthier and natural alternative to feed their sweet tooth cravings.

Price of other sweeteners vs Suchero?
Suchero is competitively priced with artificial sweeteners, and is more affordable compared to other natural sweeteners.
63295
Commodities
Other
Sugar

Description

: COCO NATURA - Nature's Finest Sweetener (Coco Sugar).
- All Natural
- Highly Nutritious
- No Aftertaste
- Low Glycemic Index
- Ideal for Diabetics
- Rich in vitamins and mineral
63283
Commodities
Other
Coffee & substitutes

Description

: Don Humberto Organic Coffee is a genuine roasted coffee made after a carefully selection of the best organic-grown arabica coffee grains of the Valle del Cauca mountains region in Colombia. The aim of the company is to help the small producers of coffee who grow their coffee in a totally pesticides-free crafted way and then in the collection, carriage, storage, roasting, package and delivery process to employ women who are single mums and some of them have come out of jail after being convicted for petty crimes and who are vulnerable and in need of reintegrating to society. Our vision is to gain market share in the EU and to be the first roasted Colombian organic coffee exporter in our country.
63101
Commodities
Other
Coffee & substitutes

Description

: café vert 100% arabica, 100% bio
63100
Commodities
Other
Cocoa, chocolate

Description

: Cacao brut 100% bio
prix : 3€ à 4€/kg selon quantité
62878
Commodities
Other
Tea

Description

: Dear Sir / Madam,
Warm Greetings from Barracuda International
Laksawi Group
Our Group is having a complete dedicated supply of Organic Spices, Tea, and Herbs from the cultivation of our Local Farmers. We ensure that the Best of Quality of Our Products reach our Valued Customers Worldwide, by adhering to the Best Quality Control & Process Control Systems. The quality reflects on the Products that we deliver. For further information on Product, Certification Please do not hesitate to contact us.

Organic Spices & Herbs
Ceylon Spices posses' a very Specific aroma and Flavor when compared to the Spices grown in other regions. Quality Ceylon Spices are carefully processed and packed to preserve the best Aromatic and Flavor properties. Laksawi Spices are delivered to Our Valued Customers in Bulk form, Consumer packs form and Specialized packing known as spicy gifts.

Small Farmer Products
Our Organic Products are, cultivated by Small Organic Farmers. Most of our Spice Farmers are mainly gathered in the Central Highlands of the Country. Farmers are organized as independent farmer group called LESFA viz (Lanka Ecological Small Farmers\' Association). Our Organic Produce are Cardamom (ElettariaCardmomum),Turmeric (Curcuma Longa), Clove (EugeniaCaryophyllus), Black Pepper (Piper Nigrum), White Pepper (Piper Nigrum L), Mace (Myristica Fragrans Houtt), Nutmeg (Myristica Fragrans), Ginger (Zingiber Officinale), Vanilla (Vanilla Planifolia), Ceylon Cinnamon(Cinnamomum Verum), Garcinia (Garcinia Cambogia), Lemongrass (Cymbopogon Citratus), Curry Leaf(Murraya koenigii), Green Tea (Camellia Sinensis),

Fair trade Principle
All agricultural projects are developed not only focusing on the continuous supply but also focusing on the socio-economic development of the team members.
We welcome all interested initiatives to join hands, in assisting the Disadvantaged Primary Farmers help themselves, by providing more opportunities to sell their Organic Produce, produced under well equipped Processing Facilities.

Aravinthan Arulrajah
Managing Director
Barracuda International Pvt Ltd.
No 70/4 Saint Ritas Road, Mount Lavinia, Sri Lanka
62227
Commodities
Organic Food Development & Certification Center Of China
Tea

Description

: Té Verde Orgánico Gourmet

Con el Té Verde Orgánico Gourmet usted disfrutará lo mejor de los dos mundos. El carácter excepcionalmente suave, rico y sabroso de una relajante y deliciosa taza de Té Verde Orgánico combinado con los beneficios del Ganoderma Orgánico 100 % Certificado harán que sus papilas gustativas salten. Este centro de energía es la envidia de los especialistas en sabor y expertos en nutrición de todo el mundo. Únicamente se encuentra disponible en Organo Gold.
62226
Commodities
Ecocert
Coffee & substitutes

Description

: Café

El Café Negro Gourmet estimulará y despertará los sentidos de los amantes del Café. Usted se deleitará con el rico aroma familiar y el sabor del Café fresco recién preparado. Es una bebida conveniente "en cualquier momento" que se prepara en segundos. Lo más importante es que es el Café Más Saludable. El Café Negro Gourmet viene embalado con la virtud de los Hongos Rojos Ganoderma Lucidum 100 Por Ciento Certificado. Es realmente una fiesta en una taza para los amantes del sabor del Café Negro Gourmet.