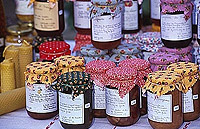 Find sellers of organic Grocery products
The Greentrade Directory
Click on the offer number to view the company's information.
To obtain the company's e-mail addresses you need to subscribe our services or please contact us at Tel.: +33 1 47 50 02 73
Fax : 33 1 47 50 28 67
Offer N°
Category
Certification
Product
59854
Grocery products
Ecocert
Spreads and pastes

Description

: A specialist in chestnuts, CONCEPT Fruits introduces its new chestnut creams flavoured with all natural ingredients without colourings or preservatives to preserve the authentic taste of the chestnut.
59680
Grocery products
Soil Association Certification Ltd
Muesli, flakes

Description

: Available as sugar or juice infused, with no artificial additives,
they provide a versatile real fruit solution for adding value and
interest across a wide range of applications, including cereals &
cereal bars, cheese, dairy, confectionery, bakery & snacks.
59355
Grocery products
Ecocert
Other grocery products

Description

: SUGARS INFUSED WITH FLOWERS, FRUITS OR SPICES, PLAIN OR FLAVOURED TEAS, COFFEES, COCOAS, COCOA BEAN DELICACIES, ORIGINAL SALT RECIPES…
59088
Grocery products
Other
Other grocery products

Description

: Organic Shoyu and Tamari

Sales in Bulk
10
208
1000
18 litres egible steel drums
litres egible steel drums
litres egible steel drums
tons egible steel drums
59086
Grocery products
Other
Other grocery products

Description

: Our daily diets, like tofu, natto, miso and soy sauce, etc. are made from the raw material soybean. How to provide safe, reasonable food is becoming an important topic in modern society.
The organic JAS, authorized raw materials of soybean, wheat etc. of Kenyu Trading Co.,Ltd are raised in fertile land without using any pesticides and fertilizer (at the present, the genetic recombination of soybean is not cultivated in China.).

Regarding imported raw materials, we use the IP handling system. The harvested soybeans from contracted farms are collected, delivered, selected and loaded into containers. Then the containers are handed to the appointed authorized organic warehouse of Kenyu Trading Co.,Ltd.
Furthermore, we are also obligated to include the certifications of seed, producer, overseas exporter, the certification of container transportation, and the manual of distribution channel.

The organic raw material of Kenyu Trading Co.,Ltd was certified by JAS and NOP in 2003. We make the effort to supply organic raw material which is considered healthy, safe and environmental friendly.
58855
Grocery products
Consejo De Agricultura Ecológica De Castilla Y León
Cocktail biscuits etc.

Description

: Productos aperitivos hechos principalmentes con patata ecológica, almendras ecológicas y maíz ecológico
58604
Grocery products
Other
Pasta

Description

: organic instant noodles, organic noodles, organic instant soup, organic nuts, organic cereals
58075
Grocery products
Other
Soy and soy derivatives (seeds, sprouts, sauces, d

Description

: Organic dehulled split soybeans
57076
Grocery products
Control Union
Other grocery products

Description

: Curry Powder
Steak Seasoning
BBQ Seasoning
Chicken Masala
Pilav Seasoning
Cajun Seasoning
Fajita Seasoning
34597
Grocery products
Associazione Ecocert Italia
Pasta

Description

: organic pasta (kamut, spelt, rice, corn, quinoa, etc)
Organic rices
Organic - gluten free products

For more informations contact directly:

info@fabbribiofood.eu

Sincerely,

Alessandro
33780
Grocery products
Other
Muesli, flakes

Description

: The DE-VAU-GE GESUNDKOSTWERK GMBH group of companies, in Lüneburg, can look back over 100 years of history. The health food factory was founded in 1899. Since then, the company's aim has been to produce top-quality, healthy products for consumers. The range of products offered includes muesli and breakfast cereals, bars, soya drinks, vegetarian delicatessen specialities and refrigerated vegetarian food, honey, baby food, juices, nut butters, and over-the-counter medicines.

Our foodstuffs can be produced using either conventional or organic ingredients. DE-VAU-GE is a professional partner for healthy food and top quality products. In the growing market for breakfast cereals and bar products, we are leaders among producers of brand names in Europe.

We use state-of-the-art equipment and all three manufacturing processes to produce our breakfast cereals:

a) Extruder process (for example, cinnamon chips)
b) Traditional cooking process (for example, corn flakes)
c) Puff process (for example, wheat pops)

We use a total of thirteen production lines to produce our top-quality breakfast cereals.

Our range of cereal products includes all the usual, well known products that are on the European market. With a capacity of 100,000 metric tons per year, we can produce cereals in all the popular pack sizes
56418
Grocery products
Bioagricert (bac)
Other grocery products

Description

: Our organic agave syrup is 100% blue agave Tequilana Weber, produced with Organic Agriculture
It is a 100 % natural sweetener obtained from by drawing out sugars from the plant named Agave.
56193
Grocery products
Bcs-oko Garantie Gmbh
Tomato sauce

Description

: Aseptic packaged organic tomato paste available.
28-30 brix
36-38 brix
240 kg drums
56110
Grocery products
Sativa, Desenvolvimento Rural Lda
Other grocery products

Description

: Organic wine vinegars and olive oils, aromatized products from the region of Lafões.
54667
Grocery products
Other
Other grocery products

Description

: Goodness Foods Wholesale makes it possible for businesses all over the UK to buy natural, organic & fairtrade foods, herbal remedies, natural toiletries, food supplement & eco-friendly household products for re-sale or business use.